Fish Stocking
Fisheries management is a topic at the top of many pond/lake owners' lists. Proper fisheries management is essential to maintaining a healthy ecosystem within a pond or lake. Our fisheries biologist designs custom programs for clients based on their management objectives. Whether you want to grow trophy bass for sport fishing or simply maintain a healthy fish population for overall pond/lake health and recreational fishing, we base our management plans on proven science to achieve your desired outcome.
Triangle Pond Management is happy to provide our clients with sterile grass carp to help manage nuisance aquatic vegetation within their ponds and lakes. These carp cannot reproduce, thus they are able to feed on weeds without you having to be concerned about their population overtaking your lake or pond. Acting as a natural controller of aquatic weeds in lakes and ponds, they provide an alternative to other methods of vegetation management.
Whether you're searching for Trophy Bass management, vegetation control, or everyday good fishing, Triangle Pond Management can provide the right fish for you. We provide safe transportation to your pond in our oxygenated hauling tanks. And, for existing ponds, we provide recommendations and a detailed plan on how to best maintain your NC-area fishery to get the results you desire.
We Expertly Stock the Following Fish (based on a one-acre sized pond):
| | | | |
| --- | --- | --- | --- |
| Type | Species | #Fish/Acre Supplemental Stocking | #Fish/Acre New Pond |
| Game Fish | Largemouth Bass | 25 | 100 |
| Game Fish | Channel Catfish | 25 | 100 |
| Feeder/Game Fish | Bluegill | 500 | 800 |
| Feeder Fish | Shellcracker/Redear Sunfish | 100 | 200 |
| Feeder Fish | Fathead Minnows | 10 lb. | 20 lb. |
| Biological Control | Grass Carp | 0-3/year as needed | 10 |
| Feeder Fish | Crayfish | 10 lb.  | 20 lb. |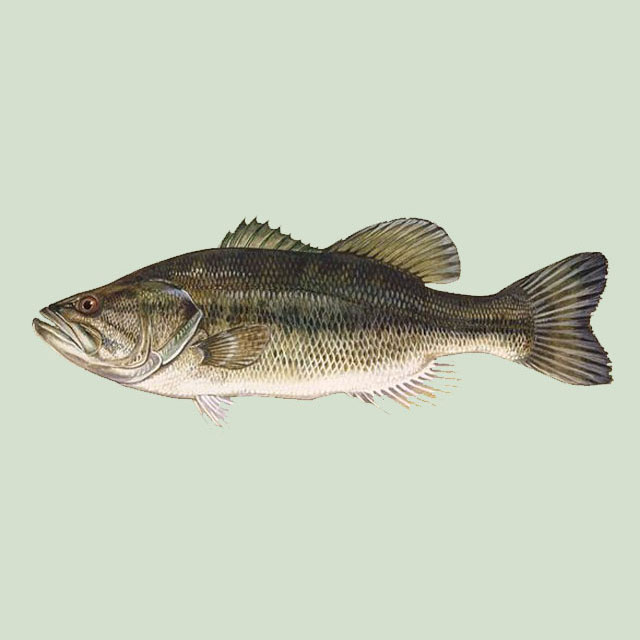 Largemouth Bass
LARGEMOUTH BASS
Micropterus salmoides
Largemouth Bass, the top predatory gamefish in lakes and ponds in our area, is critical in many lakes and ponds to maintain a proper ecosystem. They are considered to be fast-growing fish growing up to 1.5 pounds each year and are an excellent catch on rod or reel earning them a gamefish classification.
Channel Catfish
CHANNEL CATFISH
Ictalurus punctatus
Channel Catfish is North America's most numerous catfish species. They are often used to increase the general productivity of a pond without competing with the other fish. They can be stocked anytime but do not usually reproduce in ponds unless spawning containers are provided. Channel catfish grow quickly, are fun to catch, and are delicious to eat. They are an excellent choice for smaller ponds.
Bluegill
BLUEGILL
Lepomis macrochirus
Bluegill, also known as "brim", "sunfish" and "sunny" in NC, is an omnivorous fish with blue and purple on its face, olive-colored bands down the side, and orange to yellow belly. They can mature up to 12 inches long and weigh as much as 4-1/2 pounds making them an excellent source of prey for largemouth bass. As an added bonus, bluegill is fun to catch and delicious to eat. We generally recommend stocking ponds with Bluegill for "catch and release" largemouth bass fishing.
Shellcracker
SHELLCRACKER/REDEAR SUNFISH
Lepomis microlophus
The Shellcracker, otherwise known as the Redear Sunfish is a popular sport fish known for its diet of mollusks and snails (hence the name "shellcracker"). It resembles bluegill except in its coloration and slightly larger size. Like bluegill, they are fun to catch and delicious to eat. You will typically find Shellcracker fish near logs and vegetation; they tend to congregate in groups around these features. Generally maturing to 8-10 inches long and 1 pound, they can grow up to 17 inches.
Fathead Minnows
FATHEAD MINNOWS
Pimephales promelas/Gambusia
Fathead minnows are small, dull olive-grey baitfish. They have a dusky stripe extending along the back and side, and a lighter belly. Commonly used as bait for small predator fish, fathead minnows should be stocked with hybrid bluegill to provide bass with sufficient forage.
Sterile Grass Carp
STERILE GRASS CARP
Ctenopharyngodon idella
Sterile grass carp is a large herbivorous freshwater fish most often used to help control aquatic vegetation. Consuming up to triple their body weight in vegetation each day, they grow up to five pounds per year. They are known to be a relatively inexpensive long-term solution for aquatic weed control, but it's important to stock your pond with only sterile grass carp over 8″ long when large bass is present in the pond.
Crayfish
CRAYFISH
Orconectes P. carolinensis
Crayfish are typically stocked as supplemental forage for bass populations. With a front pair of strong pinching claws, a hard shell (exoskeleton) covering their body, and a broad tail, they look like miniature lobsters. Crayfish thrive in clean water. In fact, a healthy number of crayfish in a pond is known to be a sign of good ecology.
Fish Feeders and Fish Food in the Raleigh, Durham & Greensboro Areas
Keeping your fish population well fed will allow your new fish to grow quickly and thrive in their new environment. We sell high-protein fish food and automatic fish feeders that will do the work for you, leaving you more time to spend with a rod and reel in your hand. Visit our retail store in Raleigh, NC to browse our full selection of fish food and fish feeders available for purchase at a reasonable price.
Start-to-Finish Trophy Bass Management
Our experienced team of fishery biologists takes new or already established bass fisheries and transforms them into trophy bass paradises using integrated management techniques. Combining water chemistry tracking, the inclusion of correct forage, stocking ratios, removal of excess and stunted game fish, and a wide variety of enhancement options, we can accomplish whatever your bass goals are. This service includes full lake profiles, recommendations on exact location and placement of habitats, fish feeders with high-protein quality fish food, aeration needs, fish monitoring, and tracking with specimen tagging. Each bass project is approached as if it were our own private fishery. We have completed numerous projects that resulted in the production of perfectly healthy trophy bass ranging from 8-12 pounds in size. Each bass project is personally managed by our lead fish biologist, who has a passion for trophy bass management.
From largemouth bass and catfish to minnows, Triangle Pond Management is a trusted source for fish stocking and management services in Raleigh, Durham, Apex, Cary, and Morrisville, NC areas. Contact us today and let us help you catch the "Big One!"