Triangle Pond Management is a full service pond and lake management company based out of Raleigh, North Carolina. Our experts can handle any and all of your aquatic needs, including: maintenance and repair, aquatic vegetation control, fountain and aeration installation, pier or dock installation, as well as our Fisheries and Wildlife services. With spring coming up fast, now is the perfect time to make improvements to your property.
Looking to turn your backyard into the outdoor oasis you have always desired? Our Water Garden division can install anything from a small pondless fountain to a full-size koi pond. Want the sound of the perfect waterfall without the pond? Our vanishing waterfalls gives any outdoor living space an upgrade without the safety concerns a pond may bring. Already have a water feature but time has taken its toll? We offer cleanouts, rebuilds and restoration services to breathe new life into old features.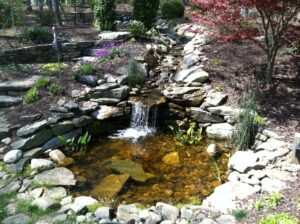 Are you curious about the fishing conditions in your pond? Our fisheries biologists have the ability to give you precise measurements on your water quality, depth, plant species, bottom hardness, fish population and species makeup. From these measurements we can provide informed management recommendations to help you achieve your goals. Poor water quality, off balance species dynamics, and lack of physical structure are some of the biggest obstacles to successful fishing in ponds or lakes. Triangle Pond Management has the ability to stock all major game species, fertilize, lime and/or do chemical treatments to correct water quality, and we offer and install high quality artificial fish habitats that are proven to hold and concentrate fish.
Our Wildlife services include but are not limited too; food plot installation, seed sales, deer stand/feeders sales, waterfowl impoundment construction, and forestry mulching/brush clearing, all are approached with year-round service in mind. A well-planned food plot for any specific species can improve the quality and size of your animals, as well as increase your harvest opportunities. We offer a variety of seed for deer, turkeys, doves and waterfowl. If you want to cut in a shooting lane, install an ATV trail, thin timber to allow for increased sunlight, or just clear an overgrown area for access or planting, our forestry mulching equipment can help.
Due to our efficiencies, our prices are extremely competitive to other company's similar services. Contact us today to put our knowledge and expertise to work for you.