Planting food plots for wildlife is THE best strategy for keeping wildlife happy, healthy, and on your NC property! Food plots provide vital nutrition for deer, turkeys, doves, and much more. They promote antler growth and solid nutrition for the deer who use them over the year. At our Raleigh, NC retail store, we provide fall and spring plot options with their own mixes that can be planted at different times throughout the year. These plots give wildlife the nutrition they need to thrive depending on the weather conditions outside.
Maintaining food plots year-round is a great way to improve the quality and quantity of wildlife on the property. It will also help with successful harvest rates as you can pattern the wildlife much more effectively. We provide a start-to-finish food plot service that can include but is not limited to, forestry mulching (clearing the land), dirt work such as discing and plowing, and the spreading of lime, fertilizer, and seed. We use a drill behind the tractor as well as several spreaders to evenly distribute the seed, lime, and fertilizer into the ground. We can also collect a soil sample in order to make the proper soil amendments. Collecting a soil sample allows us to determine the pH as well as the fertility of the soil, thus knowing the exact amount of lime and fertilizer needed to achieve our goal.
Let us help you reach your food plot goals for your property! Contact us today!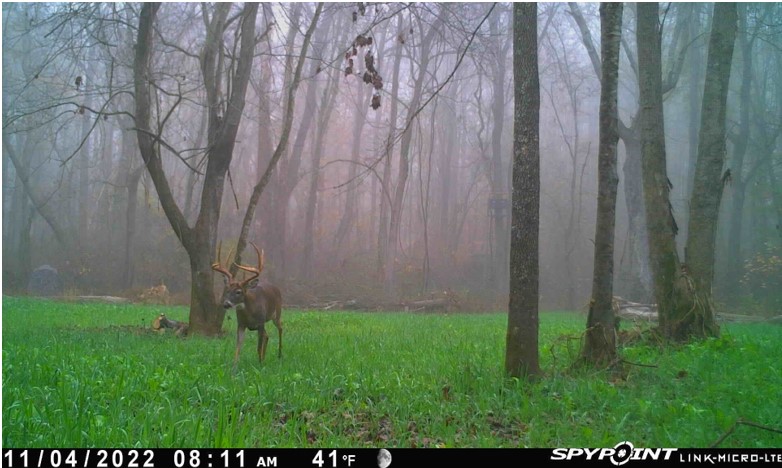 November 4, 2022
This picture was submitted by a customer nine weeks after the food plot had been planted. This is a great example of how our Fall Mix can do well even in tight, low light areas. Our Fall Mix blend consists of wheat, oats, barley, winter peas, triticale, turnips, ladino clover seed as well as rape seed. This seed blend is beneficial for many kinds of wildlife, especially the Whitetail deer.